Workshop information
See below for details of the afternoon of the BUDRC (everyone's favourite section)! For our 2023 conference, we have 13 exciting workshops for you to choose from!
Have a look through the options and then select your preferred workshops here: https://forms.gle/d4m6HGzBKDmY7eHx5
Hands-on: Endodontics
Wave hello to an efficient way of filing root canals! Dr Kreena Patel will guide you through how to use the efficient WaveOne Gold, single-file reciprocating system (using equipment kindly provided by Dentsply Sirona that you may not use at university), as well as sprinkle in many invaluable tips and tricks to help you improve the quality of your endo treatment throughout dental school and beyond.
This workshop is aimed at 2nd year dental students and above! 
Hands-on: Splinting
Learn how to support and treat paediatric patients who have undergone dental trauma/injury with Professor Siobhan Barry. You will also get the unique opportunity to construct and place a splint yourself, on models of teeth, using composite and wire!
Suitable for all years!
Hands-on: Implants
Get a taster of another exciting speciality in dentistry: Dental Implants! With Dr Nikhil Oberai, you will go through the steps of treatment planning in implant patient cases and also get to practise placing a dental implant on models, provided by Osstem Implants.
Suitable for all years!
Hands-on: Impression Techniques
From the very moment you begin mixing your alginate, you will receive top tips and invaluable advice from the expert himself, Dr Mike Gregory, to fine-tune your impression-taking skills! On top of that, get ready to have a lot of fun practising taking impressions on each other and on phantom heads— this workshop is not one to miss!
Suitable for all years!
Hands-on: Suturing
Not only is this a fantastic opportunity to tie up any loose ends in your suturing knowledge, you'll also have the chance to practise and perfect your suturing skills, ready for oral surgery one day! With the help of qualified dentists and specialists, you'll learn about various suturing techniques and how to tie the perfect knot.
Suitable for all years!
Hands-on: Orthodontics
Learn all about how to get into orthodontics, as well as a few top tips when it comes to carrying out orthodontic treatment, from specialists in the field. You'll even get the chance to do some bracket-bonding and wire placement on models of teeth yourself!
Suitable for all years!
Hands-on: Strengthening Perio Foundations
You will have the opportunity to gain a greater understanding about how to deliver high quality perio treatment! Alongside this, you will also be able to get your hands on scalers and work on your scaling technique on models of teeth. With the support and advice from both specialists Dr Dhru Shah and Dr Aziz Malik, your perio knowledge and work will be elevated by the end of the workshop!
Suitable for all years!
Hands-on: Facial Aesthetics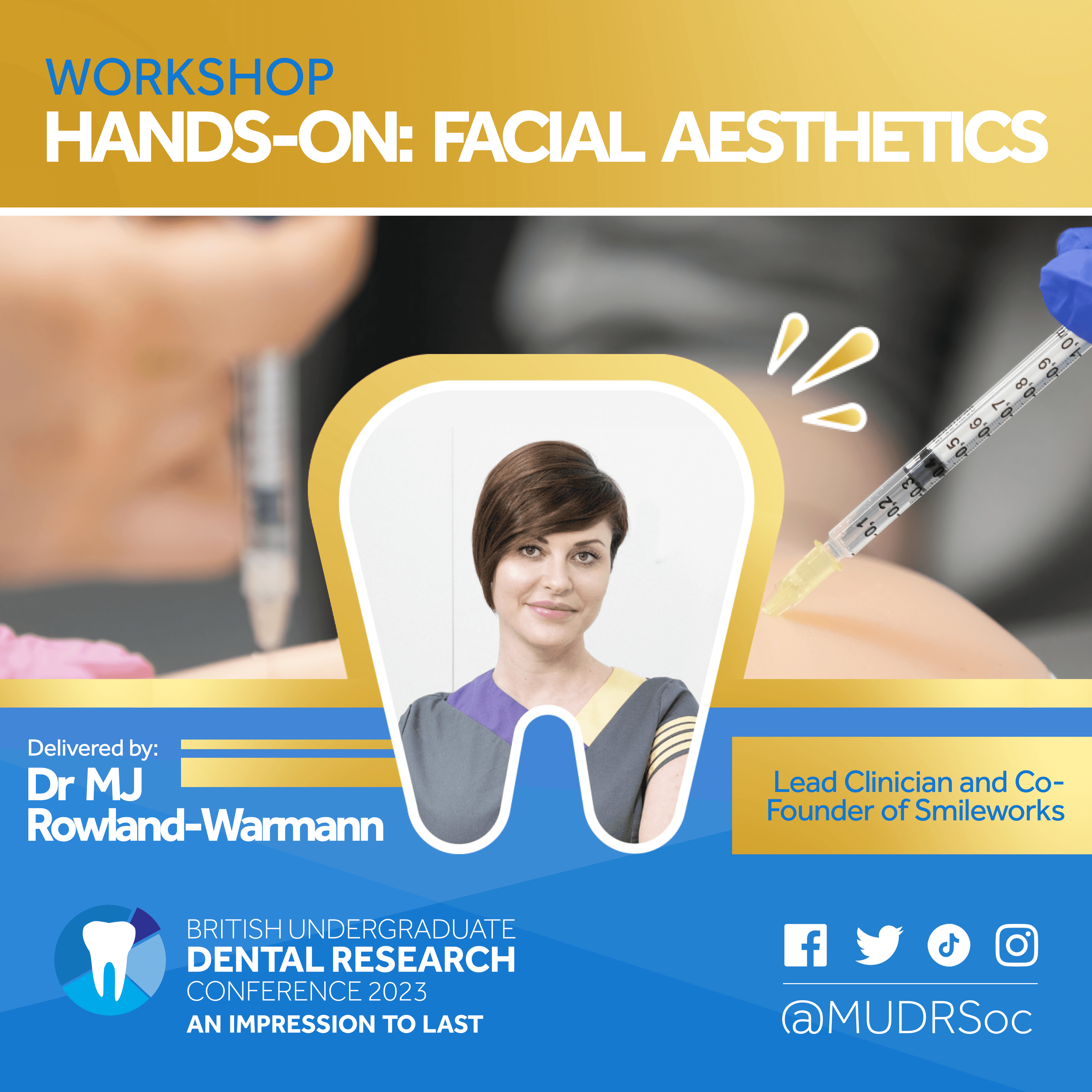 Ever considered going into the field of medical aesthetics? Well, look no further! You'll get the chance to discover what the world of facial aesthetics is like and how to get into it as a qualified dentist. You'll also get to practise marking up, injecting and aspirating on head models with the help of qualified dentist and aesthetician, Dr MJ Rowland-Warmann.
Suitable for all years!
Hands-on: Anterior Composites
In this double session led by Aesthetic and Restorative dentist, Dr Ahmed Hussain, you will be working on top-of-the-line anterior tooth models to build up restorations using composite! This will be a wonderful opportunity for you to focus on your composite placement and perfect your technique— you'll leave the session with even more knowledge and confidence in your composite-building abilities! 
 
*Note: There is a £10 additional cost to this workshop due to cost of materials.
This session is aimed at Year 4 and 5. 
Hands-on: Posterior Composites
This exclusive double session, led by none other than Dr Hassan Asad (known as the Bearded Tooth Fairy) will take you through the entire process of restoring selected posterior teeth! With help and the best advice, you'll be able to recreate morphology accurately and hone in on your restorative skills as a budding dentist!
*Note: There is a £10 additional cost to this workshop due to cost of materials.
This session is aimed at Year 4 and 5.
Making the Best Impression on Patients
Dental business consultant and coach for over 20 years, Chris Barrow, will take you through the entire patient journey and explain how you can create the best experience for your patients as a dentist. From learning how to communicate more effectively, to understanding the role of a treatment co-ordinator on the dental team, this workshop will certainly leave a lasting impression on you!
Suitable for all years!
Dental X-rays: Disentangled
Immerse yourself in the world of dental radiology! Not only will you learn how to better interpret a variety of radiographs, from bitewings to OPGs, but also be prepared for some friendly competition as you take part in interactive quizzes and present a radiograph case yourself.
Suitable for all years!
BDS & Beyond: Do you HAVE to specalise?
In this workshop, we'll discuss some of the pathways now available to become a "super associate" and doing the Dentistry you enjoy without having to specialise!
Suitable for all years!