The Manchester Undergraduate Dental Research Society invites you to attend the third annual British Undergraduate Dental Research Conference.  The previous three British Undergraduate Dental Research Conferences have seen great success, with over 90% of delegates grading the previous conferences as excellent and one they would attend again. The first ever national undergraduate dental conference of its kind in the UK proved that over 200 dental students would travel from all corners of the country to learn and shape the future of dentistry.
The day will begin with talks on pioneering dental research presented by world-renowned dental professionals. Guests were be treated to buffet lunch, whilst having the opportunity to visit sponsor stalls and meet with other students and staff. In 2017, the afternoon will offer students the chance to delve into more interactive workshops than ever before. These interactive workshops are based in multiple dental fields and include:  to name just a few! This gives students the opportunity to raise their core clinical skills, gaining a competitive edge.
Listen to world-renowned speakers at the top of the field providing inspirational talks on subject matters in dentistry which we normally gain little exposure to.

Interactive workshops where you can get practical experience, increasing your confidence through practice, advice and increased knowledge

The ability to choose and tailor what you would like to do on the day by choosing your own workshops and determining what you'd like to learn

More workshops than we have ever had before

All inclusive lunch buffet and refreshments
Get to meet sponsors from a wide range of companies – most importantly, lots of freebies!
Being a part of the LARGEST and one of the only undergraduate dental research conferences in UK, with your participation proving a great addition to your CVs, as well as your academic development
Tickets are available for staff members – get in touch with us to gain access to this.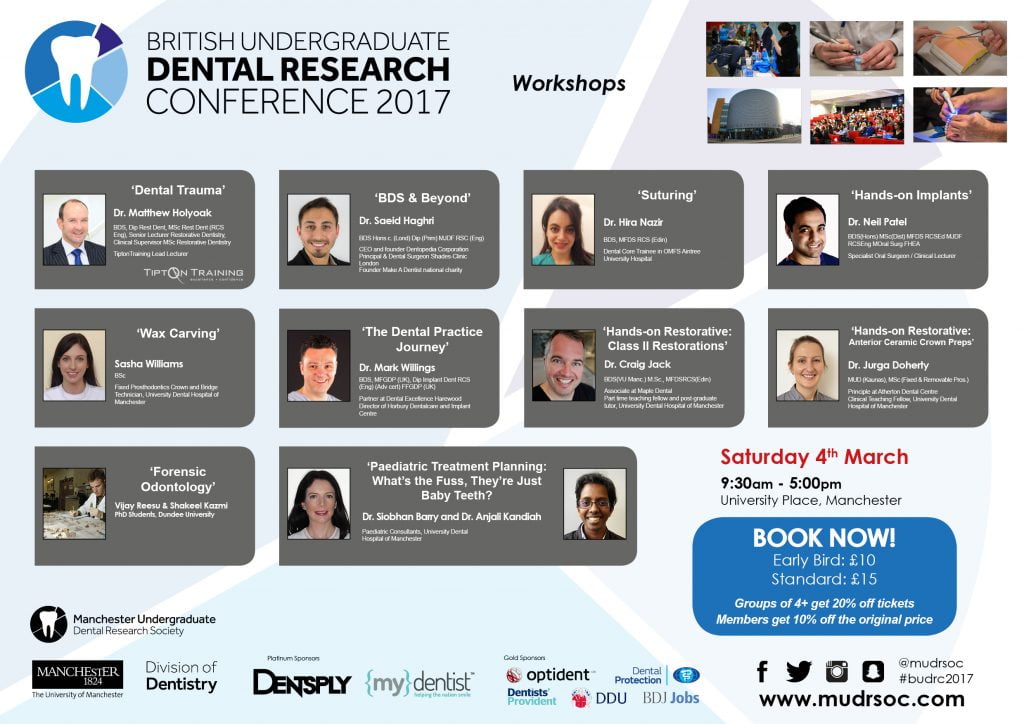 Here are some articles written about the previous conferences for more information:
http://www.nature.com/bdj/journal/v218/n8/full/sj.bdj.2015.308.html
http://www.theyoungdentist.com/uk/graduates/student-life/795-budrc15
https://blogs.bmh.manchester.ac.uk/news-hub/2015/05/19/manchester-students-host-first-undergraduate-dental-research-conference/
https://blogs.bmh.manchester.ac.uk/news-hub/2016/04/08/undergraduate-dental-research-conference-held-in-manchester/
http://www.nature.com/bdj/journal/v220/n7/full/sj.bdj.2016.246.html