On Thursday the 1st of February, the MUDR Society held its first careers talk focused on specialising. The evening consisted of talks from three speakers all of whom have specialised into different branches of dentistry from both clinical and research aspects.
The first talk was from Dr Ahmed El-Angbawi, Senior Lecturer at the university and Consultant in Orthodontics. After graduating from the Alexandria Faculty of Dentistry, Dr El-Angbawi began working as a tutor in Glasgow, completing his PhD and doing clinical training in Orthodontics. He mapped out his pathway for the students to see and gave some insight into regular and irregular cases that he has dealt with. He was able to show students a route into research and give them possible aspects of dentistry to aim for. Dr El-Angbawi shared a wealth of knowledge with the students about how to balance a clinical and research dental career.
Our next talk was from Hannah Walsh BDS BSc Hons MFDS (RCSEd). Hannah is incredibly passionate about what she does and that really came across. She currently works two jobs part time: NHS Speciality Trainee in Paediatric Dentistry and as a Community Dental Officer. In a few years she will be a registered Paediatric Dentist in the UK once sitting an exam to meet the GDC Standards. Hannah also teaches at our very own Undergraduate Teaching Hospital. After showing examples of Paediatric cases, Hannah talked us through the how she got her post and what training as a specialist is like. She gave our students a very realistic view on how to get the job and even mapped out training pathways!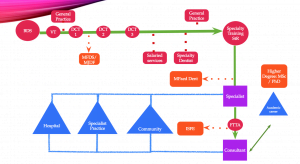 Our final talk of the evening was from Catherine Moshkun BDS MFDS RCPS (Glasg) Speciality Dentist in Oral Surgery. Catherine graduated from the University of Manchester Dental Hospital in 2014 and has been continuing to work hard. After completing her foundation year in Greater Manchester, she worked 2 DCT years in MaxFax. She strongly recommended DCT years as an opportunity to build your CV as well as learn more about medicine and hospitals and get training in subjects like IV sedations. Her main advice was to make the most of our time on clinics, do as much as you can, research before you apply for DCT routes and mainly start building your portfolios now!
Another big thank you to all of our esteemed guest lecturers for giving our students some invaluable insight into career pathways for their futures.